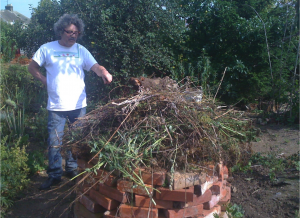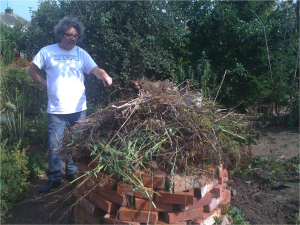 I've been thinking a lot about starting points as my three co-directors and I have set up this new community interest company called Arts and Society and it seems to me that values and questions are as good as any as a place to start. I thought I'd explore a couple of ideas on this at a time, over a few blogs.
This is a photo of Peterborough based eco-activist Gerry Warren who reminded me, forcefully and helpfully, "You need to start with where you are really at." Too often we start with what we would 'like' to have or simply not spend the time to find out what is already there before we came along. Getting to know people takes time and separating the 'lived' realities from the rhetoric takes time, as of course, does building trust. It also requires the recognition that there are huge numbers of resources already present in any place, assets that might be hidden from obvious view and those you would only learn of, once you became familiar with people living and working there.
And
In our rather grandiose name, the word 'and' is actually the most important word for me and please note that it is not 'for' or 'in'. In these times, where the word 'partnership' is bandied about to mean just about any kind of relationship, more often than not, the arts communities understandably feel the need to prove their value; we can make change 'for' you. Funders expect a 'sell' of course and an expertise to be presented but this often bypasses the valuable opportunity to 'not' have the answers, and to investigate 'alongside' others what you would like to find out. Sometimes one of the most valuable outcomes of arts and non-arts projects alike is strong relationships and emerging new ways of working for both artists and non-artists. Hard to start a project though (or a company) without a 'Ta Da!' – here we are, aren't we great!
Asset based community development, although well established as a principle for working with communities, is often skipped over in the rush to do a project, start a new thing. And how do you start something, without becoming a 'thing', something you need to promote and defend, rather than allowing what is being developed to happen between people 'through' the joint work?
Any of the co-words, co-design, co-production, co-location, co-creation demand a willingness to relinquish some control – a challenging brief in these times of austerity and fragility in the job markets. Civic creativity, as practiced by both artists and those in the public sector requires courage, especially if we are serious about localised democracy and greater participation in public services. It is merely an issue for leadership but for all of us as each of us considers this question: What sort of society do I want to live in?

artist: Alice Maggs from roundtable at RSA 'From Spectatorship to participation'

I took part in a conference with Creating Change at Ovalhouse in December and at the end of the day, an artist, deeply steeped in work with children and young people reflected on how she took her approaches to social change to work but not thought about how this might resonate closer to home. She'd not considered her own citizenship in the light of what she understood about art and its power to change. This honest and open reflection revealed a common disconnection between our personal lives, our work and our values, and one that we hope Arts and Society can address. It's about change that is rooted in the reciprocal relationship between the arts, creativity and society with the view that each enhances, enlivens and inspires the other.
Share